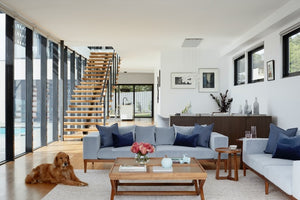 6 
Living Room Design
Tips From Our Team
In the game of decorating your space, the living room is often first up to bat. 
This is a natural progression, as it's the second center of the home (right next to the kitchen, of course)—it's often the first room people see when they settle in for any type of social visit. It's the gathering place for household members to relax and bond with one another. 
The living room can be challenging to decorate because, in a way, it belongs to everyone. The kitchen is often handled by one or two people who love to cook and know every nook, cranny, burner, and obscure tool in the room, but all generally use the living room. 
Here are six living room design ideas to get you started. 
1 | Tell a Story
At the core of interior design–or any type of design, for that matter—is the need for people to tell stories. This idea is written into our DNA. We have gone as far as we have as a society because we're able to look into the past, appreciate the days that came and went before we were born, and drive toward a future based on the ideas that our ancestors passed along to us.
Like politics, philosophy, and art, design is another method of self-expression and storytelling. 
When you're decorating a living room, many stories can come together at once. If you have an old home, paying attention to its classic details is a way to tell its story. If you're a traveler, displaying goodies you've picked up along the way tells your story of jet-setting. If your child is interested in painting or crafts, displaying them tells guests the story of you as a parent and them as a child. If you design a room without personal touches altogether, you can run the risk of telling a story that isn't true. 
Whatever stories you want to tell, keep them in mind while planning your living room design. 
This leads us to our next point—
2 | Make a Plan
To start, you're going to need some inspiration. This is the research phase. This is arguably the most fun part because it's all about letting your imagination run wherever it wants to. 
Hop online and start digging into your favorite resources—be it Architectural Digest's YouTube channel, a small blog, or Pinterest. Create inspiration boards until you find the color palette and overall vibe that speaks to you. If you're leading the design charge but live with others, consider their input as well. 
Eventually, you'll have to narrow down the style, color palette (no more than five colors consisting of few tones of the same color mixed with neutrals), and pieces you'll incorporate into the space. 
3 | Consider Texture and Materials 
Texture defines the surface of the materials you're working with, and they're an incredible way to add depth and dimension to any space. A room with limited textures can certainly be sleek, but there is a fine line between sleek and boring. 
When we talk about combining textures, we don't mean covering the whole room in bold prints. Instead, pair a linen weave sofa with leather accent chairs, a wooden media console, woven rug, and a glass coffee table, for example.
You can use smooth metal accents to add a bit of bold and modern flair, or you can stick to earthy pieces with natural materials and raw textures to soften the room. And don't forget the walls. A mildly-textured wallpaper or a beautiful limewash paint can go a long way.
Creating layers with your curtains, pillows, blankets, and plants is another great opportunity to draw the eye and play with various textures and materials. 
4 | Use Light As Your Guide
Light sets the mood. 
Think about the last time you went into a doctor's office. How was it lit? How did the world look while you were there? How did you feel?
Now consider the last time you were in a high-end restaurant or hotel. We'd wager the light wasn't harsh. Maybe it was even a little mysterious or elegant. 
Light tells the eye where to go, so use it to your living room's advantage. Large, sun-facing windows naturally do the heavy lifting for you. However, there's no need to fear if you aren't as blessed with natural light. Manipulate artificial lighting to shift the room's energy, and best convey your story.
Architectural lighting (lighting that's built, or looks like it's built, into the walls) like sconces and soft backlights create a simple, minimal, well-lit space. Fun light fixtures add pizazz and energy, while fire (candles and fireplaces), bulbs with warmer glow (as opposed to more-blue lights), and dimmer switches foster a cozy and laid-back atmosphere. 
5 | Be Strategic With Furniture
When choosing your furniture, keep our sentiment about texture in mind: you want a variety (even if it's small) of types of pieces. 
Understanding proportion and scale is extremely important here. You need furniture that fits both the space and the other pieces of furniture in the room. Some simple rules of furniture include: 
It's also important to diversify your furniture. Shopping from a single catalog will make your home look like a store display. Remember, you're telling a story. Selecting different pieces rather than a set of furniture creates complexity and better reflects your personality. Consider incorporating pieces that have been in your family for years, new pieces, antiques, and even custom-made items. 
6 | Use Accents to Create Detail
Last but not least are accent pieces. These can consist of art, interesting objects, and even furniture itself. 
For example, placing two accent pieces made of crystal on opposite sides of the room (maybe it's a raw amethyst cluster on a shelf and a set of rose quartz coasters on the table) will create consistency and harmony. 
Transform your big blank wall space into a stunning art gallery and let the entire wall become your accent piece. Alternatively, apply an art deco emerald green wallpaper and take your guests back in time to the roaring twenties!
Sometimes it's the lack of accents that makes a statement. Maybe your style is hyper-modern, clean-cut, and minimalist, and that's okay too. 
Whatever your style may be, creating a beautiful space is an exciting adventure. If it sounds a little intimidating,
we have a team of professionals
to help you turn your house into a home. At the end of the day, your stories matter, and you deserve a beautiful space with which to tell them.