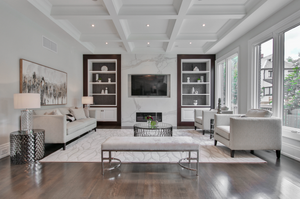 A house and a home are two very different things, and going from the former to the latter is all about cultivating a space that feels welcoming and reflects who you are. Every home presents an opportunity to be creative, to take all of the little things that make up our personalities and bring them into the physical world. 
If the kitchen is the heart of the home, the living room is the mind – it's where we can slow down and be ourselves in front of a fireplace, a TV, and loved ones. While creating the energy of a room is a creative, subjective experience, there are some simple rules about living room furniture layout that can help you turn the blank canvas of a living room into the most inviting spot in your house to settle into.  
Find an Anchor
Every room needs a focal point to anchor the rest of the furniture, which can then act as complements to that anchor. For example, the focal point of any bedroom is generally the bed, the focal point of an office is a desk, the focal point of a kitchen is an island or a beautiful stove. 
The same rule applies in the living room. A fireplace, a beautiful window, or even a TV for the movie buffs out there can serve as an anchor that you can then use as a starting point. Design the space working out from there. 
Experiment With Symmetry
Once you've established a focal point, deciding on creating a symmetrical space or an asymmetrical one can be a great point of decision making going into this process. Keep in mind that the shape of some rooms can allow (or force) you to choose one or the other; you ultimately have to work with the space you have.
Symmetrical furniture layouts generally fall on the formal side, so if you're going for a more elevated space, it might not be a bad idea to go in that direction. Putting two identical chairs directly opposite a sofa, for example, is a great way to create symmetry while using a couple different pieces. Putting accent tables or plants on either side of a fireplace will create the same effect. 
If your style is a little more casual, there's lots of room to play with asymmetry. Pair a large chair with a small chair and a funky sofa. Get a wacky-shaped rug and a long, low credenza covered in your favorite bric-a-brac. Keep furniture away from a wall and cover it in art or funky wallpaper.The key to asymmetry is finding balance within contrast and half the fun is the experimenting you'll do when putting a room like this together. 
Let Your Furniture Float
To create the illusion (or reality) of space, it's important to position your furniture in a few different ways. 
First things first, make sure to choose pieces in different sizes to create variation. This will set you up for success by providing the tools to create an interesting space (think of your furniture as a painter's palette and the room the canvas). Even if your room is symmetrical, two matching chairs should not be the same depth as the couch.
There are a couple of simple rules with regard to furniture size to keep in mind: your coffee table should be at least half the size of your couch and it should never be more than a few inches taller. If you have too much big furniture, it can make a room look cramped. Too much small furniture will also make the room look unbalanced.
One must-do is keeping your furniture away from the walls, especially sofas. Nothing should ever be flush; 3-5 inches is the absolute minimum. 
The final basic trick of creating space with your furniture is utilizing area rugs. Make sure at least 2 legs of any piece of large furniture are on a rug to pull them into the space that the rug is being used to create. 
Application
We've developed a few examples of how you can put a living room together using anchors, symmetry, and creating space. These just provide a basic frame; it's up to you to decide how funky you want to get with the pieces you find to really utilize the space you have.
Square Room
For this square room, we've decided to go for a traditional, super-symmetrical layout. This living room is the very definition of harmony, using a fireplace as a focal point and building an area that emphasizes sitting down and chatting with friends and family.  
Open Concept
The open concept kitchen-dining-living room is incredibly versatile. With a large open concept, going big on furniture can be totally appropriate, as these spaces can feel overwhelmingly large. It's up to the furniture to reign the space in.
The kitchen provides a casual spot to eat; the living area is a natural gathering place; the dining area creates a formal space that separates the two. The furniture itself provides a mechanism for dividing the space. 
Long Rectangle
Furniture layout for a rectangular living room with a fireplace is better divided into smaller spaces than used as one single sitting area. You can section off a space into formal and informal sitting areas, create a miniature library, or use part of the room as a small dining area
Small Space
It's important to fill up a small space without making it look too cluttered. The key to doing small living room furniture layout is choosing pieces of and spacing them out deliberately. Try not to over-design in small spaces; keep your layout simple and let your taste in decor do most of the talking. 
At the end of the day, this space is your own and you should use it to express yourself. You can follow these principles to stay within the lines of interior design to start, or run free to create the home of your dreams. We are also here to help. If you need help styling your space, contact our team today!