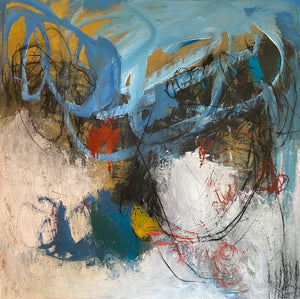 Part of our purpose here at Bench Home is to support artists and artisans from all around the globe. We gain inspiration from the creativity and craftsmanship behind the folks that we feature in our shop, and Susie Zol is one of those creators. A local San Diego artist, Susie exudes passion in every piece she creates. We were lucky enough to have the chance to ask her a few questions so that you can learn more about her studio.
1 | Hello, Susie. Would you mind telling us a little bit about yourself, where you came from, and when you started painting?
Hello, my name is Susie and I am an abstract painter working in acrylics and mixed media. I'm originally from Vermont and moved to California in the '80s after college and have lived in San Diego ever since. I was always dabbling in one creative project or another since I was young but my education and career was in business. I owned an insurance agency with my husband for 30 years and have recently retired. The start of my journey toward becoming a full-time artist began about 12 years ago when I tagged along with a friend to a workshop in art journaling. I was painting, writing and creating in a journal and really beginning to understand my creative process. After a few years, I shifted from the journal to the canvas and while I still create in my art journals, the canvas is where I feel the most at home with myself as an artist.
2 | How did you discover your style?
Truly, by painting a lot! 
3 | Your website says that you paint intuitively—what do you mean by that? How did you develop your style?
For me, painting intuitively means I am not planning my steps ahead. I am staying in the moment, allowing and accepting whatever happens. I let my heart choose one thing at a time and play on the canvas. During the process, I'm not considering what the final painting is going to look like at all. It isn't until many layers have come and gone that I move into a more thoughtful approach to the painting and consider the composition and elements to begin a process of editing to the final version.
4 | Could you take us through a day in your life? What is your process for working on your art?
My morning routine is pretty regular with plenty of movement and meditation to start my day. I try to get at least one if not two "sessions" of painting every day. A session for me is 2-3 hours in my studio without interruption. Heading into my studio, I always have multiple paintings in process to work on. As an intuitive painter, I rely on my heart to guide me and I choose whichever painting I "feel" I want to work on. The majority of my time spent working on a painting is creative playtime as I build up my layers of paint, paper and fabric. This is where the allowing and accepting comes in and I am careful not to judge my work. Once a painting has many layers on it, I will spend some time deciphering the marks, looking for where the painting makes sense and where it doesn't and putting some thought into the composition and color palette. If I don't feel a pull toward any particular direction with the painting, I know it is headed for another session of creative playtime. The timeline for a painting isn't straightforward and while some paintings are finished rather quickly, perhaps a week, others may linger in the play stage for months. 
5 | For folks who might buy their art at a major chain, how could swapping to supporting an artist directly positively impact you? What do you wish more people knew about this?
Original art brings a creative energy to any space. It changes the vibe of the space like nothing else can. Anyone can buy a poster or print but collecting a piece of original art and showing it in your home will elevate your mood and inspire you. 
6 | Could you tell us why you chose to sell artwork at Bench Home and how you choose where and how you sell your work?
I like to connect with people and build relationships. When I met the owner and staff at Bench Home I was welcomed like an old friend! I always look forward to visiting the store and seeing them. I am a good judge of character and will know right away if I want to work with them. It's always more about the people I work with than the location or brand.
7 | For someone who has always dreamed of working as a full-time artist, what advice would you give them to get started?
I would say relax, be patient and be ready to work just as hard at marketing your work as you do at creating it.
8 |  What is your biggest source of inspiration in art and life?
My biggest inspiration is nature. It's right outside my door and I can be in the mountains, on the beach or in the desert. I get energized by the colors and shapes I see.

You can find out more about Susie on her website, or see her work in-person at Bench at the Cottage—a local San Diego gift store.