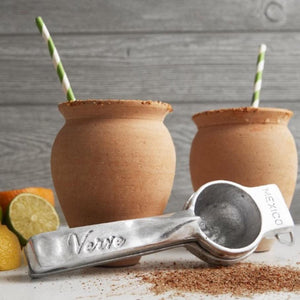 Gifts For Party Hosts In 2021
The kids are out of school, temperatures are rising, the sun is setting late, and summertime is officially in full swing. This also means that summer parties are back! 
From birthday pool parties to Friday night dinner parties to evening bonfires in the backyard, it's important to come prepared. Do you know what you'll be bringing to your next summer get-together as a host gift? 
Gifts for party hosts are thoughtful ways to show your appreciation and foster strong relationships with those in your community. They don't have to be extravagant or expensive, but they should be tailored to your host's lifestyle and interests. 
Looking for host and hostess gift ideas? We've put together some of our favorite in-shop items that make excellent gifts for party hosts.
Candles

Paloma Ceramic Candle
The neutral clay exterior of these candles are both heavy-duty and versatile—the perfect candle for any season! With a burn time of 75 hours, they're long-lasting, too! Subtle enough to style in any home, these candles make for the perfect decorating accents. The lemongrass, geranium, and rosemary scent is available in a natural marble vessel, while the grapefruit juniper comes in a textured white version. The styles and scents pair well together, and your host will love having such staple pieces in their home. 
Delmare Candle
What makes the Delmare Candle stand out is its intoxicatingly incredible fragrance combinations. With 32 hour burn times, the three scents, sunset beach, beach house, and gardenia, your guest will be reminded of your love and friendship throughout the year as the candles burn.

Hand-poured by a local 13-year-old entrepreneur, these soy wax candles come in four scents: ocean breeze, lavender, summer nights, and sparkle. You can't go wrong with giving candles as a host gift. Available in all different scents, colors, shapes, and sizes, candles are warm and inviting and often overlooked by people shopping. Your host will appreciate this small act that promotes relaxation and calmness. 
Fireplace Match Cloche
While fireplace match cloches aren't exactly candles, they are similarly fun, fiery, and special. To a host with a vintage style and a fabulous fireplace, these matches are the perfect gift! Unique and classy, each vessel is hand-blown and fitted with a cork stopper in the bottom. Once your host uses all 120 matches, they can reuse the class as a stylish display in a bathroom, on a mantle, or a bookshelf. 
Towels and Throws
Turkish Towels
A summertime essential, Turkish towels are stylish and great for sunny days by the pool. Multifunctional, Turkish towels can be worn like a sarong, used as a towel to dry off, or thrown down as a picnic blanket. The more you wash it, the softer, fluffier, and more absorbent it becomes! 
We carry many different Turkish towels in our shop. Turkish towels are functional and stylish gifts for any host, from tie-dye to striped to trendy mint green. Additionally, the different styles match many different types of people, so they're easy to personalize and make special.   
Chenille Striped Throw Blanket
The earthy tones within our chenille striped throw blanket add a fun and stylish pop of color to any room. Warm, fuzzy, and extremely soft, this is the perfect gift for someone with an outdoor fire pit or a cozy movie room. After a fun but tiring night of hosting friends over, this throw will invite a much-needed moment of relaxation, allowing your host to unwind and appreciate the thought that went into this gift. 
Kitchen Goods
These fruit bowls are unique and adorable. Get one in each color and throw blueberries, raspberries, and grapes in them for a colorful and edible gift to enjoy after dinner with dessert. Your host will love how stylish and useful these bowls are when serving fruit on a grazing board, and they're made of strong ceramic that will retain their integrity for years to come.
A staple in Mexico, Cantaritos are the refreshing summer cocktails you didn't know you needed. Perfect for warm nights, this Paloma-like, tequila-based cocktail typically arrives in a clay cup, which helps keep the drink cold. Our Cantaritos Kit includes two red clay cups, a citrus hand juicer, paper straws, and chili salt. 
The Key to Gift Giving
With gift-giving, every situation is different. Picking the perfect gift depends on many factors, including the receiver's personality, lifestyle, values, hobbies, humor, habits, and fashion sense. 
The right gift lies in understanding these factors and making a thoughtful effort to please your host's interests. If you have the right intentions and understand your relationship with the host, you leave little room for error. 
Order online or stop in to our shop located in the Kensington neighborhood of San Diego for any of the items above.
Contact our team
with any gift-related questions and explore other gift ideas for party hosts!