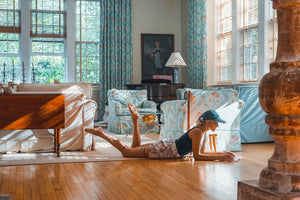 Here Are The Most Common Interior Design Styles
Interior design is a visual extension of your lifestyle and personal values, but matching your personality with a design style that perfectly meets your needs can be challenging. 
Understanding different interior design styles takes you one step closer to finding which is right for you. We've put together a list of some of the most common interior design styles to help get you started:
Modern
All modern-style interior design comes from the 1900s. This style has subdivisions as well. Mid-century Modern, for instance, describes the American design movement between 1945 and 1969. Mid-century Modern interiors give off a retro vibe and utilize lots of warm-toned wood furniture and rich earthy red and orange shades in addition to rounded edges and defined lines. 
All modern design styles aim for simplicity and functionality. Clean lines and a neutral color palette give the modern home a sleek and understated look. Pairing light, neutral colors and tones with square shapes and defined, straight lines helps fulfill the clutter-free, form-follows-function mission of modern design. 
Contemporary
Contemporary and modern designs are very similar. Clean, understated, and function-driven, the difference falls mostly under each category's age and history. Contemporary is strictly "current," whereas modern refers to an interior design era from the mid-1900s. Although both color palettes are neutral and calm, contemporary design usually sticks closer to black, white, and grey shades. In contrast, the modern style incorporates some earthy red, blue, green, and orange colors. 
Minimalist 
The phrase "less is more" is at the heart of minimalist design. Extremely refined and simple, minimalism utilizes a neutral, simple color palette and the sparse decoration that exists serves a purpose. You won't find any clutter or decorative elements—excess is the antithesis of minimalist spaces. Some critics claim that minimalist spaces are cold and stark. However, fabric and color choices can easily foster warmth in your room. 
Industrial
Industrial design came about when factories, workshops, and warehouses from the industrial revolution were reinvented into lofts and apartment spaces. High ceilings, big windows and skylights, exposed brick, large wood beams, leather, and metal pipes give industrial design an urban, masculine, and mechanical feel. 
You don't have to live in a former factory to adopt this design style, though. Finding antique and vintage industrial furniture, buying decor that utilizes various industrial materials, removing the drywall to expose some brickwork or wooden beams, and creating an open layout are a few easy ways to create industrial design's casual-cool vibe in any space.
Traditional
Reigning from classic European design, traditional interior design embodies warm, dark, and finished wood tones as well as elegant, ornate fabrics and details. Think claw-footed tubs, framed wall decorations, and curvy, elongated furniture. 
Traditional design is classic, predictable, and timeless. When done thoughtfully, it can transform a room back in time, making you feel like European royalty! 
Traditional design utilizes lots of accessorizing and layering. Order and consistency are key. Centering your space around one main focal point, such as a fireplace, is a common and helpful way to pull everything together.
Bohemian 
The original Bohemians reigned in 19th century Paris. These social outsiders included artists, writers, travelers, and other people who valued creativity over affluence; that's why the beauty of bohemian design lies within its eccentric and idiosyncratic form. 
Drawing from global inspirations, the bohemian style cannot be placed in a box. Its lack of structure gives off a carefree, exotic, and playful energy. Common characteristics of a bohemian environment is a neutral color palette with splashes of vibrant color, lots of layering of natural and organic elements, and a decorative aesthetic that often mixes various styles and patterns. Toss together a couple of throw pillows and trendy floor pillows on a Turkish rug, add in hand-made original artwork, place your favorite exotic plants and big boheme candle on your French coffee table, and your space will begin to come together.
Art Deco
Looking to transform your space back into the roaring 20's? Art deco is the interior design path for you. Luxurious, high-end, and over-the-top, art deco's dramatic and exuberant aesthetic will make you feel like you're living in "The Great Gatsby." 
Incorporating bold colors, geometric patterns, and statement-making art deco accents like vases, sculptures, and candles help create the opulent, polished, glamorous space you've always dreamed of. 
Coastal
Inspired by sandy dunes and ocean air, coastal interior design's light, bright, and airy aesthetic derives from the sea. White is the base from which cool, neutral shades of blue and green build upon and driftwood-inspired wooden features are common decorative and functional elements. 
Coastal design elicits a relaxed and casual "it's 5 o'clock somewhere" vibe, and earthy feature pieces complete your oceanic getaway. Fabrics such as cotton and linen make coastal interiors extra comfortable, soft, and cool. Like all interior styles, there are modern and chic ways of pulling off a style, and not-so-great ways. Steer clear from overdoing it on nautical themed goods, as too much can come off as tacky. 
Country Farmhouse 
Balancing simple traditional style with modern sensibilities, country farmhouse design is practical, comfortable, and nature-minded. Creating warmth through its heavy use of wooden furniture and furnishings, farmhouse living is durable, warm, and cozy. 
Evolving with every new season, the country farmhouse intermixes new and old. Pairing a vintage chair with a newer tabletop, or matching repurposed wood with a more up-to-date stainless steel sink, for instance, works to the farmhouse charm and aesthetic. Found objects from vintage and antique stores are a great place to begin your country farmhouse journey.
Next Steps
For more on how to figure out your interior design style, we recommend finding inspiration on Pinterest or by flipping through interior design magazines. Reflect on your lifestyle and gain a strong understanding of what each room in your home's purpose is. Thoughtful planning is the first step to cultivating your personal style.
If you're based in San Diego, stop into our locally-owned shop in Kensington. You can also
contact us online
. We use creative intuition and trusted design techniques to achieve well-designed spaces for every home.