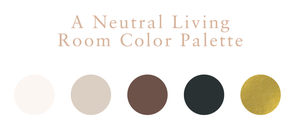 Here Is A Living Room Color Palette For Your Style
Balanced interiors layouts and neutral palettes are in. Many designers posit that they're here to stay—after all, they're easy to style and they're a staple in Scandinavian countries, who always tend to be at the forefront of interior design. 
Maybe you're reading this because you just got a new place and are chomping at the bit to get decorating or maybe you feel "blah" about your current space and you don't know where to start fixing it. What we've come up with for you is a gorgeous neutral living room color palette to help you get started.
The Basics of Color Palettes
So when it comes to color, we love the 60-30-10 rule: this classic interior design tenet simply states that you should have 3 main colors in a palette where you use the dominant color in 60% of the room you're working on (usually for big spaces like wall color, rugs, and couches), a secondary color in 30% of the room (curtains, armchairs, accent walls, and art, for example), and a tertiary color for the remaining 10% (accent pieces, mostly). 
You're probably wondering: wait, this describes 3 colors but there are 5 in the palette, so what's going on here?
Well, we've taken the 60-30-10 rule and expanded it just a little to make room for natural materials and bold accents. Our 60-30-10 colors are in the middle of the palette (taupe, warm brown, and a deep gray-black), but white/ off-white is always welcome in a neutral space and a hint of metallics can make your living room a little more dynamic. 
A Caveat
There's one very important thing we need to mention before we move on to pieces that can make a space with these colors: this color palette is neutral because we want you to be able to run with it. 
We love taking the guesswork out of your palette choice, but this one has lots of room to play with. If you're looking for something more modern, swap out the dark brown and gold for a deep greige (gray-beige) and silver. If you're inspired by the sea, opt for a teal color instead of the gray-black. If your vibe is on the earthy side, pull the metallics and add a terra cotta or eucalyptus color instead. 
Don't forget that, at the end of the day, this is your space that you live in. Cultivate the environment that makes you feel the most at-home. 
Here Are A Few Pieces To Incorporate Into Our Neutral Palette: 
The root inspiration piece for this palette is this scalloped basket. 
It's made of seagrass: an all-natural, highly-textured, perfectly-neutral-but-still-bold material. Keep in mind that texture is so important with neutral spaces because it maintains the subdued feel while giving the eyes a little more to play with. 
This basket would be a fantastic focal point on a wall or it can sit on a table as a centerpiece. Its warm natural fibers and bold black pattern is the perfect embodiment of a modern neutral space. 
This reactive glaze vase in dark grey and natural clay have a similar effect as the scalloped basket and serve as a perfect complement to it. 
It opens up space for some delicate foliage and sits beautifully on a coffee or side, table, bookshelf, or credenza. If you are going for that earthier tone, a terra cotta color is waiting for you!
This double-sided throw is perfect for any living room that's ready to embrace a little boho. 
It's cozy, soft, and has a gorgeous pattern with some fun frills. It's somehow muted and bold at the same time and has the same energy of a natural fiber like the seagrass basket. Toss it over a couch corner or reading chair (your future self will thank you for it when you're in the middle of a book and find yourself a little cold) and watch your living room get more welcoming before your very eyes!
Finally for that extra sparkle and shine (literally): gold!
This brass bijou hook is a tasteful, subtly approach to metallics. It's not an in-your-face gold, which is perfect if you've decided to stick to a warm neutral palette. Use this to hang a potted plant or a macrame wall hanging. 
We hope you love our living room color palette ideas and find a way to sneak them into your space. For more tips, tricks, and tactful pieces, visit us today!