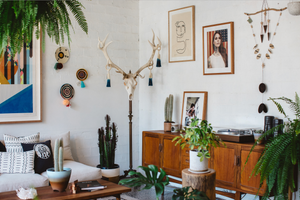 Last time, we talked about how to style your coffee table, but now we want to hand-pick our absolute favorite coffee table decor to make your shopping easy. Here are our team's favorite picks for coffee table decor every home needs.
1 | A Vase For Your Greenery
We love pops of greenery wherever they can go. They breathe life into a room and add a sense of warmth and comfort. We have a few vases that are perfect for your coffee table decor with a plant—but they also stand gorgeously on their own.
The Sienna Vase
This is one of our top picks because of its organic color. Using beautiful pieces to create an ambiance in your room is a lovely and subtle way to make changes throughout the year. 
The Terra Cotta Vase
Another organic vase with a more minimalist or industrial feel is our Terra Cotta Vase. Its gorgeous concrete and black colors fit perfectly into almost any style of room and are even the perfect gift for that person who has it all on your list. 
The Genie Bottle Vase
Timeless elegance with a modern twist, the Genie Bottle Vase is whimsical and beautiful and would add a lovely height to any coffee table. Plus, mixing metals with brass, black, and silvers are very 'in' right now. We think this adds that perfect punch to a mixed metal vibe.
2 | Books To Stack
You can stack books however you please on your coffee table. We have some great choices to add to your coffee table book collection.
Magical Rooms Book
Stay inspired with the beauty found throughout the pages of the Magical Room Book. This book is perfect for laying on your coffee table and flipping through as you start to wind down for the night. If you love styling and design as much as us, you will indeed find lots of ideas from just a few minutes of diving into this must-have.
Living With Nature
One thing we get asked a lot is how to decorate for the season. This book dives into the rhythms of each season and is filled with ideas to help you transform your home in whatever way you please. 
Cheese Boards To Share
This tops our list of favorite coffee table books because everybody loves cheese! Plus, this fun book is filled with ways to share a beautiful cheese board with friends and family. Adding dimension and fun to your table with this book is a sure win.
3 |Things You Might Need
We like to leave room for useful items on our coffee table. These are just a few things that come in handy time and time again.
A Fun Box Of Matches
This boxed match set with dogs is so fun to have laying around for when it is time to light up a candle and relax. Plus, it adds some unexpected humor and love to your room. We all love our furry family members, so why not give them a little spot to shine right on your beautifully decorated coffee table. 
Form Glazed Ceramic Candle
This is one of our all-time favorite candles because the usability does not end when the wax is through. You can use this candle as a planter as well, adding that greenery to your table with the same gorgeous ceramic design. Plus, these scents are amazing. 
Apulia Coasters
While we are having fun with the rest of these items, we thought we would add these beautiful coasters to the mix. Fun colors and textures make these coasters stand out on your coffee table and are perfect for holding your morning cup of joe or evening cup of red. 
4 | Something Whimsical
Your coffee table doesn't have to be boring. On the contrary. You can show your unique personality with fun touches like the ones below.
Yoga Rabit
The white resin yoga rabbit is not only unique, but it's beautiful too. Add this to the top of your coffee table book stack, or set it ever so subtly beside your beautiful greenery. Something like this is sure to stand out and make you smile each time you get a glance. Isn't that what good design is all about? 
Teak Crescent Bowl
This bowl has a bit of whimsy but a lot of beauty. The organic material and classic shape are perfect for holding your keys or other items that you may need to place, making it functional and beautiful.
Trinket Dish
Trinket dishes are the perfect stylish storage to have anywhere in your home. For us, dropping our rings off in something sturdy and cute is part of our daily routine. Having fun trinket dishes on your table is a subtle way to add something fun and unexpected to your coffee table styling. 
If you are looking for more help styling your home, we are here for you. We offer styling services and are always updating our blog with helpful info. Peruse our online shop for more fun additions to your home. We can't wait to get to know your style.