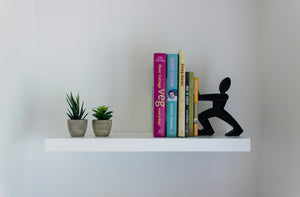 How To Decorate A Bookshelf: 3 Different Ways
If a picture is worth a thousand words, a bookshelf is worth ten times more. 
Like any other piece of a well-designed room, a bookshelf is a visual tool to express your creative energy and show guests in your home exactly who you are. Approaching this space is an opportunity to cultivate meaningful design, which is a surefire way to make you happier and more comfortable in your home. 
We have broken the art of bookshelf decoration into three simple archetypes—the type-A, the minimal modern, and the eclectic—in the hopes that one resonates with and inspires you as you put this space together. 
Type-A 
If you watched the news in 2020, you'll know exactly what the type-A bookshelf looks like because it sits in the background of so many interviews. It's the shelf of the lawyer, the organizer, the businessperson, the everyday neatfreak.  
This style of bookshelf is typically reserved for books alone because those with this taste lean toward the straightforward and utilitarian. The basic premise here is that the books themselves are both the focus and the purpose of the shelf. 
Type-A bookshelves can be characterized more so by the way you organize them than anything else. If you're a huge fiction reader with a pile of colorful novels, this space might just be color coordinated. If you've got a wide variety of sizes, you can arrange them into a beautiful slope. If your inner organizer just can't keep quiet during the design process, you can go by whatever is most important to you—alphabetically by author or title, by genre, or even by order of favorite to least-favorite. 
The type-A bookshelf can look distinguished and strong as it draws the eye. It's the perfect way to bring a little bit of heaviness into a room, especially if you use invisible bookends that allow you to bring the books right to the edges. If that heaviness doesn't resonate with you, it can be lightened up with a pair of stylish bookends that reflect your style a little better. 
This bookshelf makes a powerful visual statement as well as a personal one: it says that you love your books and are ready for guests to peruse them. 
Minimal Modern
Minimal modern is a great bookshelf idea for those who might not have a ton of books but still want to turn a bookshelf into a beautiful focal point in a room. 
The key to the minimal modern bookshelf is selecting the items you put there with extreme care. This is a fantastic moment for any art books you may have, and stacking books horizontally instead of vertically is a great way to take up space in an interesting way. 
You can also create a gorgeous minimalist effect by turning the books page-side out so the spines are hidden and you're left with the varying shades of white and tan. 
Another component of a minimal modern bookshelf to consider is art. A couple of well-framed prints on a shelf leaning casually against the wall makes a clean, sophisticated look and an interesting bookend or a potted succulent can pull a clean space together. 
Eclectic
The eclectic bookshelf is a place for the expressive designers who can't choose a single aesthetic. This space is more than just a bookshelf, it's a blank canvas and a chance to show anyone who enters this space all of the things about your personality that you want to share with them.
An eclectic bookshelf should be a little wild, literally—flowing plants look absolutely fantastic here and a little pothos can go a long way once it's draping beautifully off of a shelf. Display things that are meaningful to you, be it a Stormtrooper figurine, a big crystal you found at a flea market, goofy photos of your childhood, that C+ worthy bowl from your high school pottery class, a collection of Russian Nesting Dolls you picked up on vacation, you name it. 
The key to creating this style of bookshelf is finding the right balance between eclectic and clutter. To avoid that clutter, make sure you have a range of object sizes—you don't want a cluster of tiny objects clumped together in a corner—and that anything you display has enough space around it to make a statement.
We hope our styles inspire you. For a little more direction, great bookshelf styling is absolutely everywhere—at your local indie bookstore, in a "bookshelf decorating ideas" Pinterest search, or even at your grandparents' house (grandparents always have a knack for collecting and displaying cool stuff). 
At the end of the day, it's important that your bookshelf inspires
you
regardless of any trends. Approach an empty bookshelf with the intention of the space it occupies and the tone you want to use it to set, and don't forget to have some fun and experiment during the process! If you would like some help creating a space just for you, contact us about our design services today!