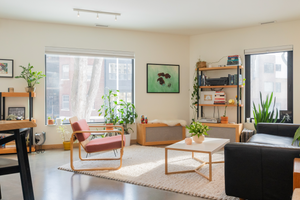 With trends changing every year (and every month, for that matter), it can be challenging to feel like your decor and style is up-to-date. But, at Bench, we believe your style is unique as y-o-u, so we wanted to put together some tips on how to decorate your room to help you feel right at home.
Find A Cozy Furniture Layout
First thing's first is figuring out the perfect layout for your furniture. The difference between a cramped or cozy living room furniture layout all depends on thoughtful planning. Figuring out how to decorate a living room and make it feel like a place to relax can breathe new life into the furniture you already own.
When you shop for furniture, be sure to buy furniture sized to fit your space. It is common for people to either over or under-size their furniture. This alone can lead to feeling like there is something wrong with your home when the issue lies in how it is laid out. When measuring out space for furniture, the critical things to remember are passageways, doors, and distance from focal points like fireplaces. If you have a moment, take out a piece of paper and sketch out your living room, placing a box where the furniture would be to get a birds-eye-view of the space before you spend your money.
Add Wall Decor
Now that you have the baseline down with your furniture, it is time to pick wall decor. We like to start with one piece that we love and base the rest of the room's vibe on that. Perhaps you have a piece from a local artist, like one of our favorites, Susie Zol. Or, maybe you have artwork that you've created. Find a staple piece and work on building out the rest of your artwork from there. Typically, you can transform a room with a large statement piece on your largest wall or a beautiful gallery wall to display all of your favorite pieces. The most important thing to know is where to place the artwork on your sightline.
No matter your style, there are a few "rules" to remember when hanging your artwork: 
Hang a single piece of art at eye level; hanging it too low or too high can make your decor seem "off"

If you have multiple pieces (like a gallery wall), treat the center of the entire collection as the center of a single piece

Space multiple pieces equal distance apart if you are grouping them

Take into consideration things like headspace (like you would need behind a couch) when hanging your art

Add personality with

pieces that make you smile
Choose The Perfect Storage For You
No matter if you are a minimalist or a maximalist, storage is still essential. From plant stands and coffee tables to bookshelves and benches, think about how you use your space and build your room around it. 
Not only do these storage spaces allow for you to keep your favorite things, but they also are the perfect place to display your styling chops. With decor that can go on your coffee table and storage for your favorite books and travel collections on your bookshelf, your home will be full of inspiring design.
As with furniture, it is essential to plan your storage spaces out. Be sure to know your ceilings' height, the measurements of blank wall spaces and door openings, and plan accordingly.
Accessorize, Accessorize, Accessorize
At Bench Home, we have tons of accessories to help you make your house a home. A comfy candle, a modern planter, or an exciting figurine for your mantle can make your space sing. When you accessorize, think about items that function as well as add a little pizzaz. For instance, these beautiful candles become planters when finished, perfect for a succulent or gorgeous plant to add to your living room. This tray can hold your trinkets while you lounge by the television while adding some color to your space. Some items might be just for fun, but that is A-ok, as long as it makes you smile.
Add A Little Texture
Once you have your place accessorized and decorated, the final piece will be adding texture. A gorgeous throw pillow, window coverings, and a cozy blanket can add dimension and mood to your room.  Plus, if you keep your older furniture around longer, this is a surefire way to make it feel fresh. And, just like we want some of your decor to be functional, throw pillows and blankets will get a ton of use as you cozy up for movie nights.
As seasons change and trends update, these few tips are easy to swap out, rearrange, and enliven to meet a new style or keep your style fun for you.
Check out our blog
for more tips on interior styling, support our small business by
shopping with us online
, or contact us for your
next interior design project in San Diego
! We cannot wait for our products to delight you.