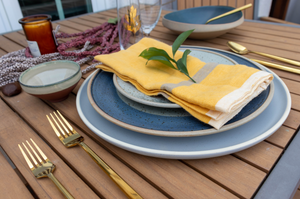 How To Decorate Your Thanksgiving Table: A Simple Tablescape
Ah, Thanksgiving. One of the few days of the year where we get to sit around the table with our entire family and enjoy the things we have, the people who support us, and the fortune to be under a roof with a table covered in food to begin with. 
There's something to be said about the look of a Thanksgiving table. It's always a subtle compliment to the evening – typically sidelined by the bountiful feast of your choice. Nobody has the decor at the forefront of their mind at Thanksgiving when done well because we want our Thanksgiving decor to seamlessly integrate with the meal, with the coming together of friends and family. The trick to the decor is the feeling it invokes for your loved ones around the table. It can be subtle and gorgeous and add something truly special to the evening. 
It's easy to go overboard on Thanksgiving decorations. With so many bright orange turkeys popping out of cornucopias splattered across storefront windows surrounded by a nightmare of tissue paper, "subtle" is not the first term that comes to mind during the holiday season. 
But don't worry, we can look past the paper decor and create a beautiful spread to support your delicious meal. Here, we'll break down a few different ideas to change up the look of your Thanksgiving table this year. 
Incorporate tradition, but be subtle. 
When we say you should update tradition, we're mostly talking about paper plates covered in turkeys, but that doesn't mean we have to do away with fall symbols entirely. We recommend these gorgeous glasses with gold fall leaves. They don't scream Thanksgiving, but they certainly nod to the beautiful season characterized by falling leaves. If you do want to use those classic colors, a yellow charger or napkin might round out your table nicely. 
Be neutral
A surefire way to create an elegant space is making everything look easy and unintentional. This can be accomplished by pairing neutral and fall colors together. Consider opting for shades of tan and black or white as your base, then incorporate burnt oranges, maroons, and yellows in smaller details (and in smaller amounts) – a glass here, a leaves in a wreath there. There's no need to cover your table in themed glitter, and we definitely think a couple of small painted pumpkins that match your theme can bring more to the table than a cornucopia taking up too much table space. 
Go bold instead
We're going to make a statement that might drive some Thanksgiving purists a little nuts but bear with us. Consider throwing the traditional color palette away entirely—no bright reds, no bold oranges, no leaves or turkeys. Remember, this is your table, and you get to make the rules. 
While subtle neutrals are the obvious choice for an elegant Thanksgiving table, we think you should consider going in the opposite direction: blues. This isn't as out of place as you might think: going for colors that lean toward this side of the color wheel invoke the sense of transitioning from fall to winter. Blue is both bold and comforting; it's the color of a crisp sky and of an icy river. Experimenting with color can bring an entirely new, festive feel to the table. 
Deepen your table
One tip we always recommend is creating depth and dimension in any tablescape. One simple way to do this is stacking dishes – it's artful and creates just enough drama if done correctly. Start with a charger, add a main plate on top with a salad plate above that. Top with a napkin with a bold napkin ring if you have one, and a sprig of rosemary (any favorite herb or leaf will do nicely). 
Bring the outside in
While polyester fall foliage will not add much to an elegant table, incorporating materials that invoke the fall outdoors can bring a wonderful touch to any tablescape. Bring in some bright crispy leaves from outside or opt for some gorgeous berry branches to create a table that feels like a fall evening. 
Create warmth on the table
There's nothing that says cozy as well as candles do. If you'd like to take your decor in a more rustic direction, bringing an interesting candle holder or two can go a long way. 
This Thanksgiving is going to be a bit different than usual for most of us – namely smaller and more intimate. This is a beautiful time to experiment with new decor and create the tablescape of your dreams. 
Take this year as an opportunity to really cultivate an environment that is nurturing, welcoming, and represents the gratefulness you have with those who you are sharing your table with. It has been a challenging year for us all, and now is the time to be grateful that we've made it through, and nothing brings us together like a beautiful meal around the Thanksgiving table.