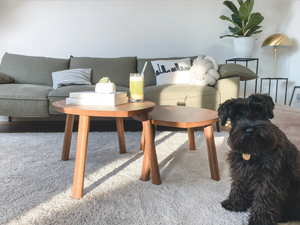 There are times in an Architectural Digest interview here or a stylish friend's house there that we see a coffee table with a little extra something. Whether that be books stacked perfectly or the cutest dinner tray—we have some tips to take your coffee table to the next level.
1 | Add Interest With Plants
Long gone are the days of a beautiful coffee table and a few coasters strewn across them. As you search for the perfect items to match together to compliment your style, a plant is always a perfect touch. Whether you are a minimalist or a maximalist, adding a little bit of greenery will take your coffee table a long way. If you like a simple style, perhaps a single stem flower in a small vase will do. Our Sienna Vase is perfect for this because of its organic tones and exciting shape. We love the ZZ plant for its stunning looks and easy care for someone who loves a lot of pizazz.
2 | Stack Your Books
This is probably one of our favorite coffee table design hacks. Stacking books on your coffee table add texture and dimension to an otherwise flat surface. It is also a fun way to display the things you love. There are coffee table books about everything from interior design, to gardening, to dogs! It's a fun way, not only to add visual interest but for your guests to pick up and flip through as they hang out in your living space. Thinking through different tastes, you can take this trick as far as you want, either using one or two next to another decorative piece or stacking them in quadrants to show the depth of your coffee table. Some people even choose to stack other items like vases and collections from travel on top of the books for visual interest. 
3 | Leave Space For What You Need
We don't know about you, but for us, our coffee table gets used a lot. Whether we set our laptop down as we pour a cup of coffee, use it to hold our glass of wine as we wind down for the night, or place a candle on it to fill our room with beautiful fall and winter scents. With that in mind, it is essential to think about the utilization of your table. Yes, we can make it beautiful and usable. So, as you think through the decorative pieces, is there a candle holder, candle, coasters, or dining tray that you love? Consider adding it to your table for styling and to grab when you need it. We like to keep a candle and matches right at arms reach for a quick room refresh.
4 | Don't Get Tied Down
The fun part about small spaces like a coffee table or bookshelf is that you can simply swap out the items when your style changes, and you will have a fully refreshed room. Make sure that your big purchases, like the coffee table itself, are timeless and of good quality. As you decorate and play with styles, allow a little creativity! If you get sick of seeing your plant in the center, you can move it around or swap it out for another one in your home—this is your space, after all. So, be daring, add a strange element you've found at a local store to your decor and then know that when you want, you can move it or gift it to someone who would love it. We are passionate about design because it is ever-changing, just like us. And, each year, we will all learn new and fun ways to make our homes even cozier.
If you are looking for ways to style our coffee table or home, we are always updating our blog with helpful info. You can also shop our locally-owned San Diego gift store for beautifully curated items and local artists' creations.
Check it out today
to see if there is something that piques your interest. We can't wait to send you something beautiful soon.