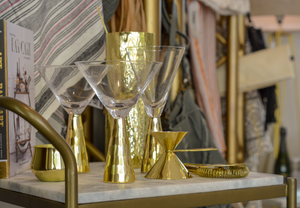 Here at Bench Home, we love a good bar cart. Whether you own or rent your place, a bar cart is an easy way to add your personality to any space. The cart is endlessly customizable and ever changing, so it can change with your mood or even with the seasons! Below, we have comprised our
favorite tips to help you create the perfect bar cart!

If you've got it, flaunt it!
This can be applied to anything from the bar cart itself to decor and glassware. Start by going shopping around your own home for great decor and glassware. You'd be surprised at what can be repurposed and what you will fall in love with all over again. Do you have some vintage glassware? It'll be right at home on your new bar cart.

Time to go shopping! Do you love making specialty cocktails? Here at Bench Home, we have all the cocktail accessories and tools that you need to make the perfect drink. If you love wine, we have a selection of beautiful glasses to choose from.
Styling.
This is the best part of creating your bar cart — the styling! The great thing about a bar cart is that everything on it from the glassware to the bottles of booze serve as decor. Place the glassware in an organized fashion, pairing like with like. You can keep your alcohol in their original bottles or get some fun decanters. In addition to the glassware and alcohol, add a fresh element; such as flowers, some citrus from your yard in a great bowl, a houseplant, or your favorite cocktail herb like mint. Don't forget the coasters, books, or a piece of art to add a fun touch.

Simple is best.
Less is always more, and that statement is definitely true when it comes to the bar cart. Remember, your bar cart will be out on display for you and your guests. You don't need every piece of glassware you own on display. You can always add more or change it up until it is perfect and suits your fancy!


We hope these tips and tricks help you dream up a fabulous bar cart. All there is left to do is whip up a fancy cocktail and enjoy! Show us your new bar cart all done up! Hashtag us at #benchbarcart