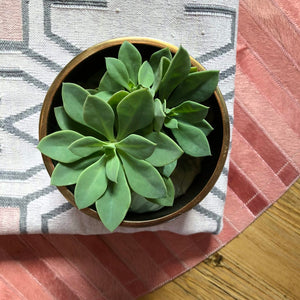 There is no better way to spruce up a corner, dining table, or mantel than with an indoor plant. Here at BENCH Home we know that indoor plants can be intimidating for some; below we have some great starter plants, awesome containers to plant them in, and some helpful tips to get you living green.

Snake Plant / Mother-in-law's Tongue

The Mother in Law's Tongue is a forgetful gardeners best friend; these guys are extremely forgiving and pretty difficult to kill. You should water them every two weeks, or when you notice them drying out. Unlike other houseplants, they convert CO2 into oxygen at night; so put one in your bedroom next to the window for a great night of sleep!

Pothos Plant

This traily, leafy vine is a great way to add a bit of drama to any room, they have the ability to grow six to ten feet indoors! This low maintenance house plant needs indirect sunlight and to be dried out in between waterings. Place your pothos in a hanging vase (like our Amal Ceramic Hanging Vase) or on the top shelf of a bookcase for a wow factor.

Here at BENCH, we have plenty of vessels for your new plants to feel right at home.
Some final tips..
Here at BENCH, we keep our plants in their original plastic containers and drop them into the planters. This is great for two reasons: it makes watering a breeze and it gives us the versatility to interchange our plants and planters always giving our store a fresh look.
Once a week (Watering Wednesday) take note of your plants soil and the dryness. If your plant looks dried out pop it into the sink and give it a nice watering. Leave them in the sink for a few hours so it can properly drain.
We hope these tips and tools will give you the confidence to have the greenest of thumbs!