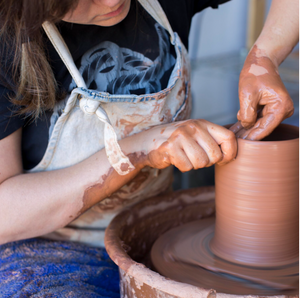 Bench Home is a small business. 
Our brick-and-mortar location is nestled in the beautiful Kensington neighborhood of San Diego, California. Our small team curates, packages, and delivers all of your items to you while welcoming guests and helping them find the perfect-for-them items. That's why it is essential for us also to support small businesses. A rising tide lifts all boats, and today we want to highlight some of our favorite artisans so that you can learn more about the Bench community and people that create and are featured in our store.
Why Is It Important To Shop Small?
"Shop Small" isn't simply a catchphrase small business owners use to hook you in—it is incredibly impactful for our economy. According to the Small Business Association, since 1995, small businesses have created 66% of all new jobs. Plus, small businesses are known for giving more back to the community, providing better customer service, and providing a sense of community. With the rise of social media, those communities are spanning across zip codes and states. Plus, when you support small, you spread kindness by making someone smile and directly impacting their dreams. That's why we want to support these wonderful makers today.
Gavin Luxe | San Diego, CA
For our community looking for luxurious and even sensuous living, Gavin Luxe is one of our favorite makers. My, founder of Gavin Luxe, built this business to create multi-sensory experiences for their customers. A local San Diego business, they create beautiful fragrances for your home and body and even skin serums for a beautiful glow. You can find their products in our shop and online.
Shalla Wista | Birmingham, AL
If you want to support artists, Laura from Shalla Wista is one to choose. Laura creates gorgeous jewelry for any occasion and gains her inspiration from nature and stepping outside of her studio. These pieces inspire us and are such a magnificent addition to our shop. Check out this stunning jewelry here.
Jess Carter Ceramics | San Diego, CA
Amplifying your design style with handmade ceramics in your home is a gorgeous way to introduce texture and color into your interior. Jess of Jess Carter Ceramics comes at every project with creativity and light-heartedness. Each color is hand-mixed and inspired by Southern California in the '70s and '80s. They are timeless pieces that will make you smile at every sight. See more here.
Jennifer McHugh Art | San Diego, CA
This artwork displays beautifully in our unique store in San Diego. Jennifer McHugh calls her style "organic abstract," using organic shapes and colors to create stunning pieces. She takes inspiration from travel and nature, allowing the canvas to tell a story. You can find her work in our shop in the Kensington neighborhood of San Diego.
Ruth Fromstein | Madison, WI
Ruth is a creator through and through. Whether dancing, learning graphic design or creating gorgeous artwork, she evokes excitement and adventure in her life and work. As an abstract painter, she creates landscape work, improvisational pieces, figure paintings, and more. You can see her work in our store! 
Satazi | Louisiana
At Satazi, Samantha creates jewelry differently. Taking inspiration from her surroundings in Louisiana, you can see character in each piece. This jewelry adds color and fun to any collection. You can find it on our website! 
We are grateful to support small businesses and other women business owners who are making a mark on our world. We hope you will consider shopping small the next time you need a unique gift for someone you love, want to freshen up your home, or just want to treat yourself. Check out all of our
wonderful partners in our shop
.