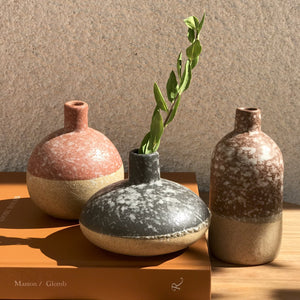 Our Favorite Neutral Decor For Your Home
The beauty of modern interior design is that there are so many directions you can take it: you can go trendy and bold, classic and elegant, combine elements of both, or go completely off the beaten path. 
Your choice of color, pattern, and texture really comes down to who you (and the people you live with) are and the purpose of various rooms in your home. Some rooms are for entertaining and excitement, while others are for relaxation and getting zenned out.
If the latter is your aesthetic and you're looking to create a low-key environment, we're here with some neutral living room ideas to get you inspired. 
Neutral Decor
Doesn't Mean White-And-Tan-Everything 
Pieces like these gorgeous hand-painted terra cotta vases have neutrals that lean into colors without quite leaving the neutral spectrum. If you broke a piece of the bottom of the shorter vase, you would probably see a light grey color, but next to the darker grey of the clay and the black detailing, it looks blue! 
The human eye is a complex thing—use that to your advantage when working with near-neutrals and subtle hues. 
Accent With Metallics
Because metallics fall into a different category than the color wheel, they're super dynamic and fun to play with.
You can incorporate them into a room with deep, royal colors or a monochrome one. It can be used to make a grand or subtle statement, and these baskets err on the subtle side. The white exterior melts into the neutrals in the rest of the room and the gold pops out as a surprise upon closer inspection. 
Texture, Texture, Texture 
While some homes opt for the museum look (re: Kim Kardashian's gorgeous house), that can feel a little sparse, almost clinical, for lots of us. 
To combat that sense of walking on eggshells in a pristine space, we can use texture. Use it to bring a warm, organic element inside. This Vovo cushion brings the perfect blend of fluff, corners, pattern, and frill to a room. 
Let Mother Nature Supply a Splash of Color
When it comes to neutral decor, plants don't count. If there's a pothos plant in your neutral room, you wouldn't necessarily consider green to be part of your color palette, right? Right.
Using a beautiful bowl made of a natural mineral and adding fruits or foliage allows you to maintain neutral decor while adding a splash of bright citrus fruits or a blooming bunch of hydrangeas for some oomf. 
Natural Neutrals 
Designing with neutral home decor is all about manipulating the eyes and subtly drawing them around the room. 
Natural materials like marble have subtle movement to support this. Little spots and cracks and lines and changes in tone create a sense of ease on the eye. Our brains tend to associate natural materials with calmness—think of it this way, when you imagine a cozy cottage in your mind's eye, is it made of wood and stone or metal and concrete?
Take advantage of natural materials when designing with neutral colors. 
Black As A Statement
When you're looking for neutral living room colors, don't forget that black is neutral! 
Incorporate black into your space through elements like this gorgeous, statement-making scalloped woven basket. And if you're not up to the task of adding more decor to fill the basket, this piece is striking enough to put on a gallery wall or credenza. 
Form As Decor 
When we talk about "form," we're referring to elements that take on the energy of sculpture just as much as they do interior design. 
Pillows like these incredible knotted ones are soft enough to lean on comfortably but interesting enough to elevate your space from Apartment Therapy vibes to Architectural Digest royalty. 
Accents
Books are a universal accent: they look good in every room of the house. Line your bedside table with novels, fill your kitchen with cookbooks, and leave the big art books for the communal spaces like the living and dining rooms. 
This book doesn't just serve as neutral decor, but it's also a guidebook on setting a nature-inspired table full of more neutral palettes! What more could you possibly need?
Whether you're new to neutrals or your home is already a calming, monochromatic paradise, we hope that these tips and pieces provide a bit of inspiration as you cultivate your space. For more info on decor, styling, and the importance of our surroundings, visit us at Bench today!