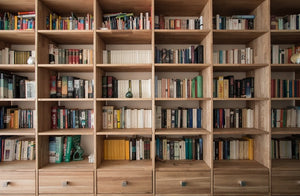 Since your bookshelf holds your favorite trinkets and memories, we know how important it is to keep it stylish, functional and for it to tell a story—yours. So, maybe you've checked out our advice for three ways to style a bookshelf and are thinking, "That's all great, but I need book shelf decor to take the style to the next level." Our team is here to help. We have several hand-picked items for you to choose from for each of the bookshelf styles, Type-A, Minimal Modern, and Eclectic. Find out our favorite accessories below!
A Type-A Bookshelf That Is Video-Ready
You like the straightforward, no mess bookcase. Kinda like the ones that line the news reporters' background as you tune in for your national news recap. You just don't have that extra oomph from the beautiful paperweight or gorgeous pot they do and need to know where to find it. Here are our favorite Type-A items.
1 | Glass Globe Paperweight
For our most sophisticated globe trotter friends, this glass globe paperweight blends perfectly with any decor and is functional to use when you need to hold down a paper on your desk. Set it at either end of your book collection to bring in some depth to your shelf without building any visual clutter. 
2 | Colorway Pot
This pot is the perfect way to bring color into your room without having it stick out like a sore thumb from your bookcase. With muted tones and a modern design, either leave this pot empty, use it for your favorite pen collection, or add a beautiful indoor plant, like a ZZ plant, to make this really pop. 
3 | Framed Capri Print
Bring your vacation destination dreams right into your home office with our framed print of the Island of Capri. This minimalist print with monochromatic blue illustrations fits any design style while also bringing personality into your space. 
4 | Marble Bookends
Nothing screams Type-A more than gorgeous marble bookends. Keep your books perfectly up-right and in order with style. Marble is a timeless stone that looks good in the most sophisticated homes and the most modern asthetics. We love this elegant design as one of the classiest bookshelf decor items.
A Minimal Modern Bookcase
If you are the type that says n-o to clutter but loves to display essential items, this list is perfect for you. Our team loves these minimal pieces because they fit perfectly onto any shelf design or even standing on their own!
1 | Blue & Black Terra-Cotta Plate
Plates aren't just for the dining area anymore, especially when they are hand-painted. This Terra Cotta plate looks gorgeous on a plate stand and compliments a colorful array of books perfectly with its muted tones. 
2 | Palmier Candle Holder
Here at Bench Home, we love a good candle. A candle holder like our Palmier collection is the perfect way to hide away unsightly logos and designs of your favorite scents but still give them a beautiful place to release aroma around your room. 
3 | Ombre Bud Vase
Bud vases are perfect for the Minimalist. They look beautiful even when they are empty. But, when you are gifted a gorgeous flower or find one on your next walk, it is the perfect place to give it a spotlight. 
4 | White Fluted Pot
This fluted pot is a perfect place for our minimalists to store their daily clutter like keys, chapstick, hair ties, etc., while keeping their bookshelf clean and chic. The ideal way to keep your aesthetic clean while also having a place to store all of the little things we all use every day.
A Gorgeous Eclectic Bookshelf
The Eclectic style is all about maximization. Flip the Minimalist on its head, pack your shelf with books, trinkets, and plants, and you have the beautiful Eclectic style. Along with your favorite travel memorabilia and collectibles, we think these items are perfect for you.
1 | Palm Tree Jewelry Holder 
This golden palm tree jewelry holder is the perfect way to bring your shelf some interest while also being multifunctional. Use this holder for your earrings, rings, or other jewelry items you have laying around, and also allow it to break up visual space between your book collection. 
2 | Porcelain Figurines
These fun porcelain figures are sure to bring about a conversation in your home. Use their white design to break up space on your shelf and the interesting design to spark conversation with friends and family. These figurines are some of our favorite decor items at Bench Home. 
3 | Sienna Vase
Stoneware is perfect for any eclectic type. This terra cotta-like color and modern design are perfect for holding your favorite greenery and blends perfectly with a boho-chic style.
4 | Monkey Decor + Decanter
Bring your home bar to your bookshelf with this Monkey Decanter. Not only is it cute and chic, but it can also hold your favorite beverage with style. Use it as a bookend, or let it sit within the foliage of your favorite Pothos for a layering effect. 
There are plenty more bookshelf styling ideas and items at our San Diego store and online. Support our small business by checking out our store. If you need help creating a beautiful custom space in San Diego, contact us today about our interior design services. We cannot wait to learn more about you.