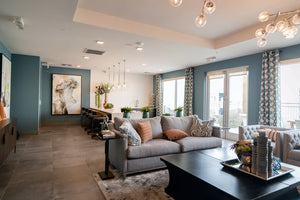 Questions to Ask Yourself Before Updating your Home Style
Every so often we find ourselves sitting at home, disgruntled by our surroundings. Maybe a couch is a decade too old, a pillow is fraying where it shouldn't be, or a wall decoration is years past its prime. Perhaps the whole house just feels off.
That's a big problem: why spend the majority of your time in a space that doesn't make you feel your best?
This feeling is an indicator that it's time to update your home's style. But before you throw everything up on Craigslist or spend three hours rearranging furniture, sit down and set your intention on the right path. Asking yourself the following questions and coming up with a brain map can help you create clear, cohesive, and concise plans for beautiful and happy results.
What Do You Love About Your Home?
While there are obvious downfalls to certain aspects of any home, there's got to be a few things that you love about your home—start there! 
Do you have a big window with a gorgeous view? A reading nook? 
What do you like about these spaces? Is it the color? The material? The shape? The lighting?
We recommend updating your favorite areas first. Make them the absolute best version of themselves they can be. Ask yourself what it needs to be perfect. Once you've cultivated that perfect space, you can take the energy you created there and bring it into the rest of your home. 
For example, if your reading nook is your favorite space, consider enhancing it with soothing neutrals, soft upholstery, an abstract art piece with your favorite colors, and a gold reading lamp. You can then take similar colors and gold accents to your living room and beyond.
Another starting point could be a favorite piece of furniture. Do you have an heirloom you love? Perhaps that should set the tone of your home. If your great grandfather's mahogany dining table is the highlight of your home, creating an earthy, farmhouse atmosphere with pieces like linen tea towels and woven baskets around it could be a great place to begin. 
What Colors Are You Drawn to?
Colors have a huge effect on our mood. The psychology behind colors and the emotions they evoke runs deep and can influence our psyche and well-being. That's why spas, for example, are full of earthy, relaxing colors and natural materials with pieces like these candle holders or this seagrass placemat.  
This doesn't just apply to large buildings like hospitals or department stores. Any room can evoke specific feelings and energies.
Choosing colors can be daunting because there are infinite options to choose from and the choices you make are vital in influencing the tone of your home, but you don't have to go crazy with color. You can start with smaller pieces like a turkish towel  or a fun doormat to bring some color into the home without dedicating your entire aesthetic to that color.  
If you don't know where to begin, one place we recommend is your closet! Take a look through your wardrobe and see what colors pop up the most. No need to shy away from bold colors either—if orange is your favorite color, why not bring it into your home? Your home is your space, so why not make it a reflection of your preferences and personality? 
The great thing about colors is how dynamic they are. If we stick to the orange example, a burnt orange accent can give off desert chic energy, a bright orange painting can bring a pop of color to any room, and neutrals with orange undertones can bring warmth. 
What Are Your Favorite Styles And Trends?
Imitation is the greatest form of flattery, so don't be afraid to look for inspiration where you can. 
Pinterest is obviously a great start, it was literally invented to inspire. Browse through interior design magazines, YouTube channels (architectural digest is fantastic), and Instagram accounts until something catches your eye. Pull a few things together and look for patterns and details that are present throughout your picks. These details can be applied to your space and will have a similar effect. 
We recommend looking at trends that catch your eye, but make sure that you incorporate trends on an accent basis instead of basing your entire home on them. For example, when Millennial Pink was all the rage, having a few pink accent pillows were easier to replace than an entire pink wall. If you're super drawn to a trendy color, though, don't be afraid to use it. After all, a wall can be repainted. 
What Don't You Like About Your Space?
Sometimes it's easier to point out what we don't like about a space than what we do. 
Maybe it starts with a few wonky chairs around your dining room table. Perhaps the upholstery is ripped and the legs are wobbly. Then you notice that they don't really match the table either. At this point, you decide to get new chairs and you settle on. That could be a sign that you should start with the dining room: reinvigorating it can set the tone for the rest of the home. 
Pinpoint the items in your home that you don't like so you can hunt for alternatives. 
What Do You Want To Achieve In This Space? 
Last but certainly not least (this factor plays a huge role in your home): functionality. 
What is your space used for? Are you creating space for a small family or community gatherings? Do you love hosting big parties? Are you hoping to utilize the space for relaxation? For working from home? 
Having a space that caters to your needs is both functional and practical, it's possible that maybe the only thing wrong with your space is that it's currently not serving what you want it to. Once you've updated a space to your needs, it becomes easier to do so for the rest of the home.
Considering these questions is important to developing your home style because they help you understand yourself and your preferences a little better. Walking into a redesign project like this can be daunting without a little direction, and we're happy to nudge you towards your best path. 
For more styling tips and a
wide collection of pieces to update your home style
, visit us at
www.benchhome.com
today!