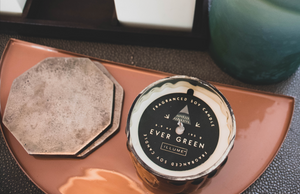 The Best Fall And Winter Scented Candles In 2020
'Tis the season to have your house smelling like happiness. We all love a good fall and winter scent. It brings a certain "Je ne sais quoi" into the home and fills us with memories of the past and hope for a brighter future. But, it can be a little confusing to know which candles are best. So, we've rounded up our favorite fall scented candles and our favorite winter scented candles to help you through the process!
The Best Fall Candles in 2020
1 | Illume: Copper Leaves Candle
Autumn is one of the best times of the year, with the sound of leaves gently crunching under your boots, oversized cozy sweaters, and a crisp breeze in the air. And, who doesn't love a quintessential fall scent flooding their home? This candle tops our list as one of our absolute favorites with notes of roasted chestnuts, cinnamon, and coconut. It is a perfect gift for a friend or yourself!
2 | Northern Lights: Whiskey & Tobacco
For a bit of a deeper scent, we love this Whiskey & Tobacco candle by Northern Lights. Not only is this scent different from the typical autumn candle, but it is perfect for the person in your life who has a calm disposition and likes to sit in a comfy chair with a hardcover book with a whiskey on the rocks.
The Best Winter Candles In 2020
1 | Illume: Evergreen Candle
The scent of evergreen is pretty hard to pass up when the holidays roll around. Whether you've been aching for the smell of a fresh tree in your living room or just "need a little Christmas right this very minute,"—we get you! This Illume Evergreen candle has a 28 hour burn time, and electroplated pressed glass creates a gorgeous ambiance in any room.
2 | Paddywax: White Wood and Mint Candle
This luxurious candle is hand-poured in Tennessee and will make you feel like you are in a log cabin in the middle of the Smoky Mountains. But, the good news is, you don't have to leave home. This Paddywax candle looks stunning in any room and smells even better. The aromatics have notes of peppermint, mint, and citrus for a unique spin on a winter scent.
3 | Illume: Winter White Frosted Glass Candle
If you like deeper, earthier winter scents, you will love this Illume candle where evergreen and cypress scents are perfectly paired with cardamom, white peppercorn, and citrus to round out this unique holiday scent. 
4 | Illume: Bon Bon Candle
Cinnamon, cream, and sugar are the notes that filled the rooms as our grandmothers and family members bake for the holidays every year. That is why this scent feels like home. The Bon Bon candle by Illume is the perfect candle to burn when you feel nostalgic or want the smell of delicious winter dishes without the work that goes along with them. Plus, these brushed metal candles add an elegant pop to any holiday decor.
As you shop for gifts for your friends and family this year, candles are a great place to start. We have a wide selection of candles and other beautiful gifts at our brick-and-mortar location in Kensington, San Diego, California,
or our online shop
. Take a look around to see if we have anything that catches your eye, and consider shopping small this holiday season. We know we will too.