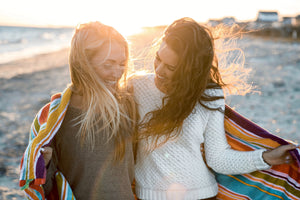 Unique Jewelry Gifts For Her
For all of you last-minute shoppers or folks who plan ahead a little, we know the perfect gift for her. Yes, her. That special woman in your life. Whether that be your significant other, mother, grandmother, sister, or friend—each of them would love a unique jewelry gift. And, while you could shop at any old jewelry store, shopping small will give you a chance to make a jeweler and shop owner grow a big smile. So, here are our best jewelry gift ideas laid out just for you.
1 | Timeless Bezel Rings
The classic look of a bezel goes with any style. A bezel setting simply means that a stone is set into a thicker, full setting. In our case, we have round and oval settings from our fantastic partner jewelry stores in San Diego, but these can come in many styles. If the woman in your life loves a pop of color, oversized cozy sweaters and blankets, and a cup of hot tea to unwind, we think she would love one of these rings.
2 | A Simple Statement Necklace
A dainty necklace with a statement charm can go a long way. These necklaces are everyday items. They can be paired with a cute date-night outfit, your everyday clothes, and yes—your even your new 'everyday' clothes (eh-hem, sweats). Our jewelry gift ideas below range from all brass to thin chains with a gorgeous pop of color, and we don't think you can go wrong with any option. It's a win/win kind of thing.
3 | Chain Jewelry Pieces
We are all about the chain look nowadays. And, this style comes in several different options, from a chunky, stylish chain for the edgy woman in your life to delicate chain jewelry for the woman with a soft presence and a little edge.
4 | A Cool Choker
Nothing says style quite like a choker. If the person in your life has plenty of necklaces or likes a different style, a choker is a beautiful option from something simple to something stunning. Pair a choker with some small stud earrings or a simple ring, and you have completely up-leveled your style.  
5 | A Fun Jewelry Holder
Maybe the person you're buying for has all the jewelry that they need. You can get them a cool jewelry holder. From something simple and minimalist to jewelry holders with lots of personality, we have an option for you!
Shopping for unique jewelry gifts for her for Valentine's Day, the holidays, or just another memorable life moment can be difficult. But, we hope that you saw that special someone in your life in our selections. There's lots more to choose from.
Check out our online store
to find more gifts, decor, jewelry, and more, and make our team smile! We can't wait to get these unique gifts to you.