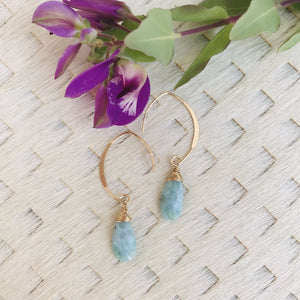 What is a Host Gift, And Should You Be Getting Them?
Summertime is nothing without neighborhood dinner parties on the patio, family get-togethers by the pool, wine nights with the girls, and weekend trips to the mountains. With the sun spilling its golden rays late into the evening, followed by nights of music and laughter, there's always something worth celebrating! 
There's a lot to be grateful for right now. The days of sheltering-in-place are behind us, and just as traffic on the 5 has returned, so have parties and gatherings with friends. Showing gratitude, rather than simply feeling it inside, is so important—especially showing gratitude towards those opening their homes to host a get-together. 
The phrase "actions speak louder than words" applies to gratitude and appreciation towards others. Bringing a host gift to your next dinner party is not only customary, but it is also a great way to show your appreciation and gratitude (in addition to a verbal thank you). 
So, what is a host gift, and why are they important? Read on to find out more.
What Is a Host Gift
A host gift is a small offering that one brings to a dinner party or small event that they've been invited to. Bringing a host gift is a traditional and customary practice that serves an important role in modern-day living. 
Host gifts are classic and timeless, but to some, they may seem outdated and old-fashioned. There are simple and playful ways to shake off the dust from the traditional idea of host gifts to add some spice and give a contemporary flair. 
Are Host Gifts Important?
To make it plain and simple: yes, host gifts are important. However, it is a bit more complex than yes or no. 
Host gifts can (and should) be special and meaningful. However, if done thoughtlessly, the gift could potentially come off as insincere and disingenuous. How does one decipher the right path to the perfect host gifts? 
Pointers for Finding the Perfect Host Gift
Bring Something Relevant to the Occasion 
Winter holiday party? You can't go wrong with holiday liqueurs, a tin of cookies, or a cinnamon scented candle. Summer barbeque? Bring a new patio game, a serving platter, or a bottle of wine that could pair well with the meal. Consider why your host is having people over, and try to associate the gift you bring with that reason. 
Shop for Their Style—Not Yours
Easier said than done because, of course, you'll want the item that matches your taste. But remember that this gift is for them, not you. Your host might have a different color palette or aesthetic than you, and that's ok! Writing down your host's style, personality, and interests before shopping will help you keep your attention on them. And next time you host, you'll appreciate it when they take your style and interests into consideration. 
Consider Your Host's Lifestyle
If you plan to bring alcohol, be sure that your party host drinks. The same is true with vegetarianism, food allergies, and other lifestyle choices that your host adheres to. Considering your host's lifestyle shows that you care about their values and preferences. 
Shop Small 
Boutique shops and local artisans often have beautiful, one-of-a-kind, and hand-made goods. Your host will feel extra special knowing that their gift was made with love and care by someone local. A bonus? Your gift will be the gift that keeps on giving because small businesses are known for giving back to their communities.
Local to San Diego? Artist Suzie Zol creates versatile abstract paintings and sculptures that look great in many different living spaces. You can find out more about Susie on her website or see her work in person at Bench at the Cottage, a local San Diego gift store. 
Choose Gift Cards Carefully 
A gift card can be a great way to say thank you, but once again, it's important to consider your host's interests and values. A gift card to a restaurant, spa, or boutique shop nearby, maybe one that you've been to together before, can be a thoughtful way to personalize your gift and show your appreciation. However, a gift card that you bought last-minute rushing through the grocery store to a place with bad reviews or serves food they don't eat is an example of a host gift that could come off as insincere. 
Do Not Regift
The gift that collects dust in the corner of your closet should not find a new home in the corner of your host's closet. If you've received a gift that you think might make a better gift for someone else, even if you think it will be appreciated and put to good use, it's usually not worth regifting. Why? Because you run the risk of being discovered by whoever originally gifted the item, which could hurt their feelings. Even though you may have the best intentions, the receiver could also find out that the item was regifted. Ultimately, the host could think of your regifting as lazy, impersonal, and effortless and it might have a negative impact on your relationship with the host—which is the opposite of the point of gift-giving. Authenticity goes a long way, and regifting is something that should be avoided. 
Phone a Friend
If you're still stumped on what to give your host, we recommend calling a mutual friend and asking for advice. What it ultimately comes down to is understanding who your host is and knowing what they'd like. If you're not very close yet, there is no shame in asking for a second opinion. You'll have an easier time zeroing in on something tailored to their liking and will feel good knowing that your gift means a lot to them. 
The Delivery
It's also important to know how and when to give your gift, and this varies depending on what it is. Understand that your host may not open the gift immediately upon your arrival. They're juggling all the duties required for hosting, and they may want a moment of peace and presence to appreciate opening your gift. 
Additionally, they may not want to share your gift with the people they're having over, even if you intended to have it enjoyed by all. Once you give your gift, it is not yours anymore, and that is ok. The only thing you can control is yourself, so meeting your host at whatever energy or headspace they're at is the best thing you can do. Letting go of expectations is key. 
Host Gift Ideas
Because the tradition of host gifting has been around for a long time, there are classic and traditional gifts to bring to dinner parties. 
Coffee Table Decor
There's nothing like coffee table decor to dress up a space and make it feel stylish and homey. Not everyone takes advantage of coffee table decor, though, because decorative pieces are often considered superfluous items that one doesn't think about buying for oneself. Que the perfect host gift! 
Jewelry
Necklaces, earrings, rings, and bracelets are thoughtful host gifts. Since nice jewelry lasts a long time, people often wear the same statement pieces or every-day-hoops for years and don't refresh their collection. From chains to chokers to gemstones, you can easily find something for anyone's style.
Our Larimar Hook Earrings pair beautifully with our Larimar Bar Necklace and brighten up any summertime look! What's even better about these pieces is that even with a splash of blue, they have a neutral design that would work with multiple styles. If you're not completely sure about finding something that works with your host's style, you can't go wrong with these. 
For a slightly bolder take on jewelry, consider the Single Gemstone Necklace. Available in two colors, pearl and labradorite, these beautiful necklaces are the perfect accessories for completing a head-turning look that is sure to receive compliments. 
Flowers
Similar to jewelry and home decor, flowers are versatile and decorative! Everyone loves them, and there is a flower for every occasion. A bouquet makes a beautiful centerpiece at the table and will add a pop of color to any event. 
Many people consider the tradition of host gifting to be outdated, but we're here to disagree. Just like a classic Chanel bag, host gifts are always in style. Host gifts show gratitude, respect, and grace, which, after all, are characteristics that almost always make the world a better place. We have lovely host gifts in our shop. Check out our
online store to find more
.